Global Business Club of Mid-Michigan
Upcoming Events
Monday, November 18, 2019
China Town Hall: Local Connections, National Reflections
Join communities across the United States in a national conversation on China. This event will feature an interactive webcast with four speakers, moderated by George Stephanopoulos, Chief Anchor at ABC News. The livecast will be followed by an on-site discussion facilitated by Associate Professor Aminda Smith, scholar in modern Chinese History in the Department of History at MSU. Parking is available in the lot south of the International Center. Refreshments will be provided. There is no charge for this event, but there may be a parking fee. We look forward to seeing you then!
---
George Stephanopoulos (ABC), Professor Aminda Smith (MSU)
0.00
Regular 11/5/2019 - 11/18/2019
---
Friday, February 21, 2020
ExporTech (TM) Export Acceleration Training (3 days: February 21, March 20, April 24)
ExporTech™ is a national export assistance program helping companies enter or expand in global markets. This program applies a structured export strategy development process that assists 4-8 companies to accelerate growth. It is the only national program where each company develops a written export plan, that is vetted by a panel of experts upon completion. ExporTech™ efficiently connects companies with a wide range of world-class experts to help navigate the export sales process. The result is that companies rapidly expand global sales and save countless hours of effort. Since 2006, 211 ExporTech™ programs have been delivered in 36 states and Puerto Rico with over 1,080 participating companies. This program is offered jointly by the Michigan State University International Business Center and the United States Department of Commerce Export Assistance Center in Grand Rapids. Please contact Jade Sims at sims@broad.msu.edu or 517.353.4336 with questions.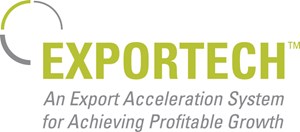 ---
MSU IBC & US Department of Commerce
1,200.00
Regular 10/16/2019 - 12/3/2019
1,500.00
Regular 1/1/2020 - 2/24/2020
---
Connect with Us
Mailing List
Sponsors
---
---
---
---
---
---
---
---
---