MSU Dubai campus to launch IB Specialization fall 2011
Publish Date: Monday, December 15, 2008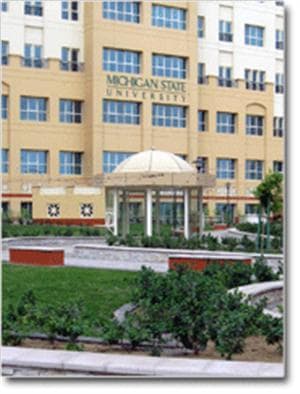 Michigan State University's Dubai campus recently enrolled its inaugural Class of 2012 in Dubai International Academic City, and the very first academic year is underway. Starting fall semester 2011, the Dubai campus will further expand to offer an undergraduate General Management major with a Specialization in International Business, supported by the Broad School.
The General Management major is an attractive element of the overall business program in Dubai. Business students will follow a program that is broad in scope and aimed at developing the student's grasp of planning, staffing, organizing, decision making and control functions in preparation for managerial careers. They will also gain a fundamental knowledge of such fields as economics, finance, accounting, marketing and business law.
"As the leading business center in the Middle East, Dubai is a rapidly expanding business scene that offers tremendous opportunities for the Eli Broad College of Business to serve the region's business community while also strategically implementing MSU's world-grant commitment as the educational knowledge leader throughout all parts of the world," says Broad School Associate Dean for Global Initiatives Tomas Hult.
The International Business Specialization allows students to increase their understanding of various regions of the world and prepare for a job in the global marketplace. It will incorporate their backgrounds in languages other than English, and they will be required to take a semester-long (four-month) residency of specialized courses on MSU's main campus in East Lansing.
Broad School Interim Dean Elvin Lashbrooke believes the Dubai program is an excellent opportunity for the college to further collaborate with other cultures. "The Broad School has been placing a special emphasis on our rich international involvement for some time, and we're very excited about using the Dubai campus as another touch point to create and disseminate international business knowledge."
For more information about Michigan State's Dubai campus and the programs being offered, please visit
dubai.msu.edu
.