Michael Rush Discusses New Museum Impact on Region
Publish Date: Monday, September 17, 2012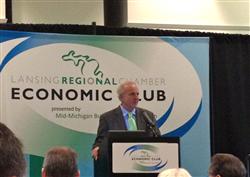 The Lansing Regional Chamber Economic Club hosted Michael Rush to share his passion for art and speak about the up-and-coming, world-class art museum being built at Michigan State. Mr. Rush is the Founding Director of the Eli and Edythe Broad Art Museum in East Lansing, and he is also known as an award-winning curator, author and critic, scholar, educator, and museum professional with previous experience as museum director. He shared all the stages of the museum's progress, starting at its roots.

Eli and Edythe Broad, both alumni of Michigan State, have a passion for art and had a dream to see a growth in appreciation for art in East Lansing, as well as in Michigan. Along with Michigan State's President Lou Anna Simon, Michigan State faculty, and residents, they were able to make this dream into a reality. A few years ago when the process began, the community had the opportunity to give input for the structure of the museum. After many architects presented their model, Zaha Hadid had the winning design. She is known for the design of the Aquatics Center at the London Olympics, as well as the Guangzhou Opera House in China. Her Broad Art Museum design is edgy and contemporary to fit with the style of the art that it will showcase.

The museum's location on the edge of campus is welcoming to both students and the community. The museum will not be laid out in a traditional manner but will be comprised of both modern and historical art pieces, videos, photographs, and more. So one can expect to see a 15th century golden alter and a triptych Andy Warhol piece displayed next to one another in a room. The idea is to exhibit art in a new way, with modernity and history juxtaposed. Visitors will see art from around the world; the museum will host art and food that can be found in the alleyways of countries some may never dare to travel to. Michigan State is a diverse campus, and the museum will be following the same trend by exposing visitors to various cultures.

The atmosphere will be fun and energizing as there will be live music, performances, food and drinks, and programs for all ages. Even for those who are not art lovers, the museum is intended to attract all and have something that interests everyone.

Mr. Rush also explained how beneficial art is in a community, socially and economically. Art connects people throughout the world, because it is relatable, but art also gives back to the community financially. Mr. Rush shared a few noteworthy statistics, for instance, for every dollar invested by the state of Michigan in arts and cultural programs, 51 dollars are yielded back into the economy. So after much time in investment and waiting for the Eli and Edythe Broad Art Museum, Mr. Rush was excited to announce that the grand opening will be November 9, 2012, and it will have an open house on Saturday, November 10, for public viewing.