Renowned Professor and Author throws down a challenge to India
Publish Date: Wednesday, February 1, 2012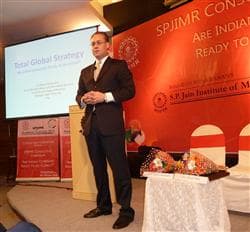 Dr. G Tomas Hult, co-author with Dr. George Yip of the bestselling book 'Total Global Strategy' considered the question "Are Indian companies ready to go global" in his keynote address at S.P. Jain Institute of Management & Research's Conclave 2012 in their auditorium, Mumbai on Friday January 13.
In his groundbreaking speech, Hult considered the five principal methods that Multi-National Corporations from around the world used to 'go global' and suggested that some Indian companies had much work to do to build a coherent International expansionist strategy
Factors he considered were; Industry drivers and the potential alignment of Government, market gaps and globally focused customers, cost drivers, position and resources of businesses and the parent company, and international market competiveness. All these factors create the right setting to enable Indian companies to have the ability to implement global strategy.
"The challenge facing Indian companies is to develop a cohesive and comprehensive home base strategy first" Hult commented. "It is important for Indian companies to fully understand what they are, to understand their core values as well as their core competences. The strategy which must be thoroughly developed must consider whether the value propositions that have won them considerable success in their home markets are replicable in other country and regional markets where very different customer needs are likely to be encountered."
Dr. Hult's speech was followed by a discussion moderated by Mr. Ashutosh Sinya, News Editor and Anchor of the TV station NDTV Profit. TV cameras were present, and a recording made to be broadcast in the next few weeks. Discussion panelists were: Dr. Tomas Hult, Director, Broad College of Business at Michigan State University, Mr. Dev Bhattacharya, Group Executive President and Business Head, Aditya Birla Group, Mr. Pradeep Parameswaran, Partner, McKinsey & Company, Mr. Sunny Banerjea, Partner and Head, KPMG Management Consulting, Mr. Shashank Tripathi, Executive Director, Partner and Strategy Leader, PricewaterhouseCoopers India, Prof. Prem Chandrani, Chairperson, International Business, S.P. Jain Institute of Management & Research and Mr. Kannan Chakravathy, Senior VP Strategy, Mahindra.
The audience of over 250 academics, senior managers, businessmen and students all enjoyed the three hour conclave.