Canadian Consul General Ray Norton: The Canada-Michigan International Trade Relationship
Publish Date: Tuesday, May 17, 2011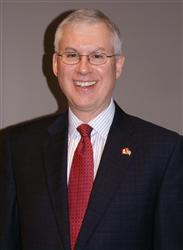 Canadian Consul General Ray Norton, Ph.D., addressed aspects of the Canada-Michigan relationship as keynote speaker at the Global Business Club of Mid-Michigan and Lansing Regional Chamber of Commerce luncheon on May 10, 2011, at the Kellogg Center in East Lansing, Michigan.
Michigan's Lt. Governor Brian Calley introduced Norton, setting the tone for the topic of international trade and its future in Michigan. He called for a push toward southeast Michigan becoming a major international trade hub by creating the infrastructure and transportation assets needed for projected future growth in the region.
Norton outlined the benefits of the new international trade crossing bridge proposal, highlighting the anticipated international trade expansion and the projected positive impacts for Michigan's economy. If built, it is anticipated that the new international bridge between Detroit, Michigan and Windsor, Ontario would become the single largest construction program in the state, creating an estimated 10,000 construction jobs and up to 25,000 spin off jobs, mostly in Michigan.
Norton stressed the region's projected international trade growth over the next 30 years, and the need for a 21st century infrastructure to be built to support this growth and to meet the needs of the state's new economy. Norton observed that Michigan and Canadian Great Lakes shipping ports are currently fully linked with rail transport, making Michigan perfectly poised to become the U.S. hub for export growth and transport.
Balancing growth with security in a post-9/11 world has also necessitated strengthening of security requirements at border crossings, requiring massive investments. Norton stated that Canadian border infrastructure is receiving ongoing improvements and that border efficiency is being continually addressed as well.
As head of the Canadian Consulate General, Norton oversees promotion of Canadian interests in trade, environment and investment, among others. Currently based in Detroit, Norton represents Canada in Michigan and three other mid-western states.
Norton stated, "For Canada, Michigan is the most important geographic region economically, more than anywhere else in the world," observing, "If Michigan were a country, it would be Canada's fourth most important trade partner."
Written by: Madison Hall, Writer, MSU-CIBER
Photograph: Canadian Consul General Ray Norton
Photographic Credit: Madison Hall, MSU-CIBER