Roger Curtis and the Michigan International Speedway: High Octane and Fast Paced
Publish Date: Wednesday, April 20, 2011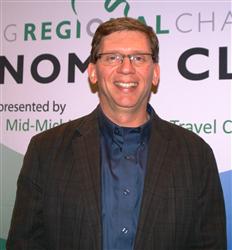 Roger Curtis, President of the Michigan International Speedway, shared insights into the high octane world of managing and growing a successful automotive race track during his keynote address to the Lansing Economic Club on April 14, 2011, at the Kellogg Center in East Lansing, Michigan.
Beginning with a heart pounding race video of the Michigan International Speedway (MIS), Curtis took the audience on a virtual tour of the world of racing, the packaging of a total entertainment experience and the fans who support the sport. Founded in 1968, MIS is currently in its 43rd year of racing, bringing in $350M a year, which Curtis points out is "equivalent to the Super Bowl. MIS is a huge economic mover, and we're just down the road."
Belonging to an elite group of racetracks, MIS is one of only 23 tracks which offer NASCAR and one of only 13 with two NASCAR race dates on the calendar. "We're the state's largest welcome center twice a year and our own Pure Michigan campaign," Curtis explained.
MIS also brings more than 400 media sources to the track from around the world for annual race coverage. Media statistics like this are important when 50 percent of the fan base is out of state and is following the sport from potentially hundreds of miles away.
Boasting 1,400 acres, 8,500 campground sites and 106,000 seats, MIS has added live shows, tailgating, kids' zones, and a concierge service to the entertainment mix. "Everyone's going home with a memory; we're a theme park with a cast of characters not unlike Disney. And our fans are enamored with this sport, spectacularly showcased in the natural setting of the Irish Hills," Curtis added. It's all part of the MIS vision, which strives to create a culture around fans from start to finish.
Curtis compared the Big 3 Touring Series with major league baseball, noting that NASCAR is the number one spectator sport in the U.S. and the number one brand for fan loyalty. For Curtis, creating a value-added entertainment venue is a major part of the MIS success story, as a balance must be struck to cater to the entire fan base along the economic spectrum. "Access for fans is pretty phenomenal," Curtis said, when describing special activities that allow fans to get up close and personal with drivers, cars and pit crews. Fans also have the honor of giving the race trophy to the victory driver, making MIS an unforgettable entertainment experience.
When asked to advise newly minted MBAs, Curtis shared his insights on leadership, saying, "Leadership involves creativity, the ability to see the big picture and communicate a vision in a way that gets results. You don't need expertise in every area because you'll be depending on the solid team you've built to back you up. And keep in mind that every leader also needs to be able to effectively interact with every type of employee and customer, sometimes at the same time."
MIS continues to build quality into its brand every race season with consistent improvements to the physical facilities, promoting environmental initiatives like recycling, solar panels and the purchase of CO2 offsets, and by giving back generously to the community.
Curtis summed up the MIS experience, stating, "Going to a NASCAR track is a spectator event sport that immerses all your senses. Only by seeing it live can you appreciate the full Technicolor, sensory, amazing experience that it is. Try it once."
Written by: Madison Hall, Writer, MSU-CIBER
Photograph: Roger Curtis, President of the Michigan International Speedway
Photographic Credit: Madison Hall, MSU-CIBER