New partnership to bolster Michigan exports
Publish Date: Wednesday, March 30, 2011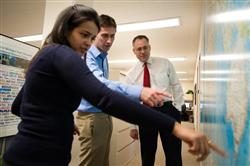 EAST LANSING, Mich. — From mom-and-pop shops to fledging factories to corporate hubs, small- and medium-size Michigan businesses can now better compete in the global marketplace, thanks to a recent partnership between Michigan State University's International Business Center and the United States Commercial Service.
It is the state's first partnership between the federal agency and a major public institution to foster economic development. The U.S. Commercial Service is the export promotion arm of the U.S. Commerce Department.
"Exporting is important for Michigan because by and large we're a manufacturing state, which means we have a lot of good products that we haven't taken advantage of internationally," said Tomas Hult, director of the International Business Center.
Under the new agreement, the MSU center will conduct pro bono market research and analysis for companies wanting to go global, while the U.S. Commercial Service will provide international networking and support, also pro bono, Hult said.
Timing couldn't be better, Hult said, as Michigan joins the country in supporting President Barack Obama's National Export Initiative. Signed in September, the initiative is designed to double U.S. exports within five years.

According to the International Trade Administration, in 2008 (the latest year for which data are available), 11,796 companies exported goods from Michigan locations. Michigan ranks fifth in the nation for the number of export-dependent jobs.
In 2010, Michigan's export shipments totaled $44.5 billion. The state's largest market was Canada, where Michigan posted exports of $21.7 billion. Canada was followed by Mexico, with $7.4 billion
To bolster those dollars within the next five years, Michigan companies need to know if and where there's a global market for their product, and that's where the International Business Center steps in, Hult said.
Michigan companies can request assistance online. Then Hult or one of his colleagues in the center will assemble a research team, which includes one to five students employed by the IBC, who do most of the research.
To help identify export-ready Michigan companies, Patrick McRae, a foreign service officer currently on assignment to the Grand Rapids Export Assistance Center/ITA, will have office space in the center to counsel potential Michigan exporters.
"We are ready, willing and able to assist Michigan firms to identify, assess and develop export opportunities," McRae said. "Likewise, MSU represents a premier academic and business initiative ideally positioned to facilitate exports. Together, we offer an exceptional benefit for those firms that are new to export or wish to expand their overseas market share."
As part of the agreement with MSU, the Commerce Department will have access to globalEDGE, a product of the IBC launched under the directorship of Hult. The online resource connects international business professionals worldwide to information and resources. Partially funded by the U.S. Department of Education, there are more than 47,000 users and more than 5,000 resources at globalEDGE.
###
Originally Published: March 28, 2011
Contact: Kristen Parker, University Relations, Office: (517) 353-8942, Cell: (517) 980-0709, Kristen.Parker@ur.msu.edu; Tomas Hult, International Business Center, Office: (517) 353-4336, hult@msu.edu; Patrick McRae, U.S. & Foreign Commercial Service, Office: (616) 458-3564, Patrick.McRae@trade.gov
Michigan State University has been working to advance the common good in uncommon ways for more than 150 years. One of the top research universities in the world, MSU focuses its vast resources on creating solutions to some of the world's most pressing challenges, while providing life-changing opportunities to a diverse and inclusive academic community through more than 200 programs of study in 17 degree-granting colleges.
Photograph: Right to Left: Tomas Hult, Director, MSU-CIBER International Business Center, Brian Small and Nupur Bihani, both business adminstration students
Photographic Credit: G.L. Kohuth