2004 MSU-CIBER Annual Advisory Board Meeting
MSU-CIBER Advisory Board Members List for download (pdf 135 KB)
Agenda for Download (pdf 80 KB)
The annual meeting of the MSU-CIBER Advisory Board took place on Friday, April 23, 2004 at the James B. Henry Center for Executive Development. 39 business and government representatives who formulate the Board attended the meeting. The meeting started with lunch at the University Club, where The Eli Broad College of Business Dean, Robert Duncan gave remarks. Dean Duncan talked about the importance of the Advisory Board for the success of the Center. He highlighted MSU-CIBER's role as the Study Abroad "hub" for the College of Business that features over 25 programs. Dean Duncan also talked about the impact of globalEDGE™ on the business and educational communities.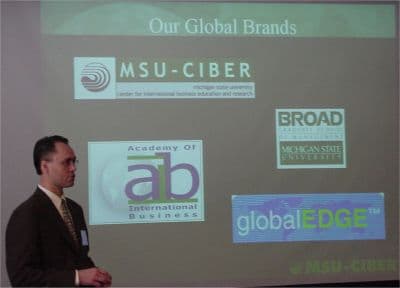 Dr. Tomas Hult, Director, addressing the Advisory Board
Dr. Tomas Hult highlighted the addition of the Academy of International Business to the Center as of January 1, 2004 and talked about the global brands the Center carries. Dr. Hult also highlighted the numerous partnerships MSU-CIBER has been building and the importance of such partnerships from fund-raising and sustainability point of view.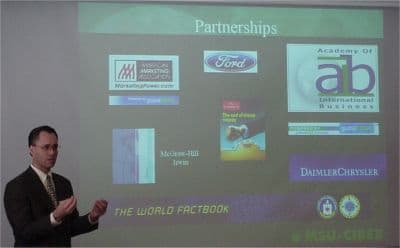 Dr. Tomas Hult, Director, talking about the partnerships MSU-CIBER is building.
The next MSU-CIBER Advisory Board Meeting will take place on Friday 22 April 2005.