Broad School successes highlighted in 'internationalizing the campus' report
Publish Date: Monday, December 11, 2006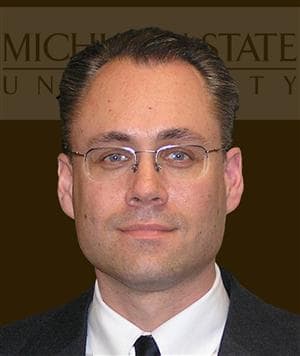 When Michigan State University was awarded the 2006 Senator Paul Simon Award for Campus Internationalization, its business school shared in some of the credit for that recognition. In a recently published report by the organization bestowing the award, "Internationalizing the Campus 2006: Profiles of Success at Colleges and Universities," the Eli Broad College of Business was featured for its
globalEDGE
Web portal and its Center for International Business and Education Research (CIBER).
Tomas Hult
is the director of MSU-CIBER and professor in the Broad School's Marketing and Supply Chain Management Department.
The Broad School's CIBER recently had its multi-year grant renewed, receiving the highest amount of funding from the U.S. Department of Education among the 30 centers – at least $1.44 million over the next four years, 2006-10.
The American Library Association includes the school's globalEDGE Web portal on its "Best Free Reference Web Sites 2006," noting that it "provides access to over 5,000 Internet resources with annotations."
Michigan State University has more Study Abroad students than any other public college in America, according to "Open Doors 2006," the annual report on international education recently published by the Institute of International Education. In 2004-05, 2,385 Michigan State students traveled abroad, and of those, the Broad School sent the most students abroad – 521 including undergraduate and graduate students.
For more about the campus internationalization award, visit
Michigan State's newsroom
and
NAFSA: Association of International Educators.
Source: http://www.bus.msu.edu/information/news_archive/home.cfm?home_id=29