Study ranks MSU International Business orientation #1
Publish Date: Wednesday, April 6, 2005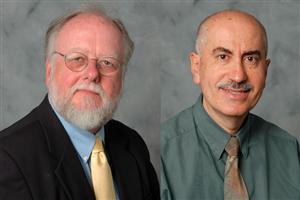 In a recent study, published in the
Journal of International Business Studies
, Michigan State University was ranked #1 as a school with an international business orientation, as measured by the number of faculty represented on the 30 top international business journal editorial boards.
The study showed that Michigan State had 28 faculty members holding 67 different positions on 17 international business journal boards during the years 1990, 1994, 1998 and 2002. When this ranking is adjusted by the editorial board index (EBI) - an index that reflects the impact factors of the journals - MSU is still ranked highly at #7.
In addition, two of the Broad School's faculty members were mentioned as top international publication board members: the John William Byington Endowed Chair in Global Marketing
Tamer Cavusgil
is listed as having the 3rd highest international business journal representation (18 memberships on eight journals), and the Frederick S. Addy Distinguished Chair in Finance
Geoffrey Booth
has the 16th highest international business journal representation (10 memberships on four journals).
Source: http://www.bus.msu.edu/information/news_archive/4.06.2005.html