Doing Business in Brazil
Publish Date: Thursday, October 11, 2012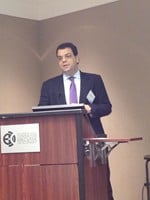 Mr. Luiz Eugenio Porto Severo de Costa provided insights about business in Brazil at this month's Global Business Club luncheon. He started off with a brief background of Brazil and explained that while it is a very racially diverse country the people of Brazil are united by their language (Portuguese), currency (Real), and constitution. The current President of Brazil, Dilma Rousseff, is very popular and is the most popular president to date.
As host to the FIFA World Cup coming up in 2014 and the Summer Olympics in 2016, Brazil has been undergoing a large change, especially in Rio. More companies are looking to invest due to these two worldly renowned events being hosted in Brazil. Mr. Porto Severo's presentation was beneficial for such investors, because doing business in the US or other parts of the world, is not the same as doing business in Brazil.
Mr. Porto Severo explained the investment structure, and the need for a license if getting involved in industries such as oil and gas, mining, telecommunications, and pharmaceuticals. The two most common corporate types in Brazil are corporations and limited liability companies. He explained the advantages and disadvantages of both, but no matter what category a business falls into, it is still greatly taxed. The two types of taxation of companies and income tax he discussed were actual profit and deemed profit. He also explained taxes such as II (federal importation tax), PIS (tax on services), ICMS (value-added sales tax levied by states on importation sale), etc. The list included up to ten different types of taxations, which each have a specific purpose. He also pointed out that the cost of hiring is very high. This is due to the government's desire to protect all employees of their country.
Mr. Porto Severo did a great job giving an overview of Brazilian business and expressed it in a clean, concise manner. Those who had the opportunity to attend can take back this information to their company and use it to get involved in the progressing Brazilian economy.