Mid-Michigan International Trade Center Launch: Open for Business
Publish Date: Friday, May 13, 2011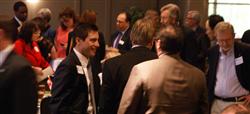 The Mid-Michigan International Trade Center (ITC) is prepared to launch from its new home at Michigan State University's International Business Center (MSU-CIBER), located in the Eppley Center on MSU's Big 10 campus in East Lansing.
The ITC's mission is to assist businesses with all aspects of international business, including assessment of business objectives and needs and to provide help towards becoming engaged in the global economy. This expansion is crucial for the creation and retention of U.S. jobs, and is responsible for significant investments in facilities and equipment domestically. With potentially 95 percent of consumers overseas, the possibilities for expansion are virtually unlimited. With guidance from the ITC, the goal of increased economic prosperity for the region and state, is achievable.
Previously, Tomas Hult, Director of the International Business Center at Michigan State University, observed, "Each one of the founding organizations brings something unique to the center that will benefit local companies. Many companies in the U.S. make great products that could be exported if they get some advice about getting started. This center is going to make that process a lot easier for small businesses that often don't have the resources to begin."
Going global can bring many benefits to U.S. based businesses, and the ITC plays a pivotal role by providing global logistics, education and service through experienced partner organizations and knowledgeable staff. By identifying local experts in global commerce and forming partnerships for education, the ITC helps to create individualized launch pads for a variety of businesses seeking global trade exposure and opportunities.
With 11 founding organizations sharing their combined knowledge for the benefit of Michigan businesses, the ITC is able to provide many services: Diagnostic tools to assess a company's readiness to take the next step; Global logistics services for imports and exports; Identification of appropriate target markets and contacts; Legal services; Financing advice; Networking luncheons and business seminars on current topics; Online export training in module format; And expertise regarding cultural, economic and political issues.
By providing a single point of contact, the ITC works closely with clients, assuring all appropriate resources are focused on that company's global market goals.
"Whether it is our world-leading online resources, diagnostic tools or our close partnership with the U.S. Department of Commerce, the MSU International Business Center is excited to be a part of helping U.S. businesses become more competitive globally as part of the International Trade Center of Mid-Michigan," Hult said.
For additional information on the ITC and how it can benefit your company, contact Jade Sims, Outreach Specialist for the ITC and the International Business Center (MSU-CIBER) at 517-884-1660, or by email: sims@bus.msu.edu
Written by: Madison Hall, Writer, MSU-CIBER
Photographic Credit: Madison Hall, MSU-CIBER