MSU's World Languages Day: Your Passport to International Adventure
Publish Date: Wednesday, April 27, 2011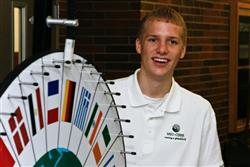 Michigan State University's 7th Annual World Languages Day on April 16, 2011, was jam packed with fun and fascinating workshops and seminars, immersing high school students, teachers, administrators and parents in a diverse language-based experience while underscoring the many opportunities for language and international study on the MSU campus.
The nearly 90 seminars explored subjects like languages of love, historical contexts of ancient tongues and the roots of civilization, providing a compelling and insightful introduction to many overlooked aspects of diverse cultures and languages. Participants and their parents could also learn more about study abroad, student life, international programs, admissions and financial aid at MSU.
Sessions led by MSU faculty and guest speakers created multi-cultural linguistic connections with discussions and demonstrations of yoga, Chinese zodiac symbols, world music, FBI language analysis, extinct and endangered languages, dating, salsa, hip hop and belly dancing, Peace Corps, pizza and self-defense, among others.
The free event, with attendance estimated at more than 700, was held at the Eli Broad College of Business Complex, Eppley Center and McDonel Hall on the MSU campus.
"Exposure to different languages and cultures is an eye opening experience for students of any age. I was impressed with the diversity of presentations, and surprised by the number of people attending," said Bill Popilarz, an MSU Accounting Senior volunteering at the event.
Often viewed as a "universal" language, English is only the jumping off point for an in-depth multi-cultural awareness and understanding of global interconnectivities as experienced through language study. Currently, MSU offers over 260 study abroad programs and nearly 40 languages for study on its park-like, Big 10 campus.
"World Languages Day presents a fantastic opportunity for high school students to begin to understand the importance and applications of international education. These students will work not only abroad, but with colleagues of various cultural and linguistic traditions here in the United States. Also, this event gives them an insight into other ways of being and thinking and will allow them to more effectively work in the global marketplace," observed Jade Sims, founding member of the World Languages Day Committee and a presenter.
MSU's World Grant vision highlights the university's leadership and diversity of thinking on the global stage, creating new opportunities for outreach and research. Educational outreach at MSU continues to be powerfully showcased by its commitment to international education, making World Languages Day a tremendous success year after year.
Written by: Madison Hall, Writer, MSU-CIBER
Photographic Credit: George Kobreek