Stenzel: Applying the Triple Bottom Line in Research and Life
Publish Date: Friday, April 8, 2011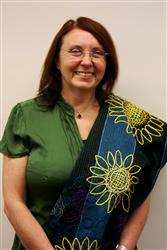 Paulette Stenzel actively seeks ways she can make a difference in the world. A professor of international business law at Michigan State University, Stenzel has a dynamic, multi-dimensional approach, highlighted in her most recent work, "The Pursuit of Equilibrium as the Eagle Meets the Condor: Supporting Sustainable Development through Fair Trade," soon to be published in the American Business Law Journal.
The article brings into sharp focus "the theme that everything is interrelated, and that's what Fair Trade and sustainability and the Triple Bottom Line are all about. If you tug one thread of our dynamically interwoven world, it affects the rest of the planet. All our actions are interconnected, and that's what indigenous people recognize," Stenzel observed. The article's theme is further inspired by her relationships with indigenous people of the Western Hemisphere.
The "North," or North America, as an industrialized region of the world is represented by the eagle in the article's title. According to Stenzel, for indigenous people, the eagle represents materialism and a lack of association and communion with the earth. In contrast, Stenzel notes, indigenous people associate themselves with the condor, "a creature which is one with the environment and being of the heart and soul"; it is seen as an environmental symbol of the "South," or less developed countries. Stenzel's goal in this article is to harmonize the values of the northern eagle with those of the southern condor.
An important component of Stenzel's research concerns The Triple Bottom Line (TBL), which refers to economic, environmental, and social equity as they apply to the impacts of business values and practices. A relatively new metric, the TBL was first articulated in 1981 by Freer Spreckley. It has since evolved to include the broad adoption by over 1,500 companies worldwide, as reflected by the Global Reporting Initiative (GRI). The GRI value performance method dates back to 1997, has the support of the United Nations Environment Programme, and assists businesses in quantifying the TBL impact of their activities.
Inspired by a synthesis of elements arising from her prior research and work, Stenzel led the MSU Study Abroad program "Business and Legal Environment of Business in Mexico, and Environmental Protection: International and Comparative U.S.-Mexican Law and Policy" from 2000 to 2007, teaching two courses. But the desire to acquire a deeper understanding of the nexus between business and sustainability issues evolved over time. In her travels, Stenzel continues to meet people involved in Fair Trade initiatives which promote sustainability, environmental, social justice and microfinance issues, among others. These friendships, forged with local people, assisted in her understanding of indigenous perspectives, which both informed and broadened her worldview. Observing myriad complex challenges, Stenzel asks, "What are the alternatives to destruction of the planet?"
For Stenzel, this research informs policy and the TBL. When thinking of policy, Stenzel recommends looking to more than the Gross Domestic Product (GDP). "You need to ask questions which examine what business practices actually do to the employee and the community. What are the long term economic perspectives? It's critical to get the economic costs to the community and to the environment onto the ledger for a full accounting, something which is certain to make the balance sheet look very different," Stenzel observed.
Since 2009, Stenzel has advised the MSU Spartan Global Development Fund (SGDF), which raises funds for microloans to small entrepreneurs in the United States and around the world, and is currently seeking non-profit status. By obtaining non-profit status, the SGDF anticipates an increase in monetary gifts, which could translate into expansion and significantly increased opportunities.
Looking to the future, Stenzel notes that SGDF's growth, in terms of money under management, loan portfolio size, and how many people could be assisted at any one time is unlimited. To date, the fund has made more than 240 loans at $25 per loan. Should the fund increase to $100,000, a reasonable growth target according to Stenzel, it would then be possible to create 4,000 individual loans, at $25 per loan, an increase of 1,600 percent. "SGDF's loans are transforming individual lives and communities for the better, and we look forward to being able to help increasing numbers of small entrepreneurs every year," Stenzel encouragingly observed.
Stenzel proposes that individuals strive to adopt a Personal Triple Bottom Line, stating, "Wherever one is on the continuum of awareness on these issues, you certainly can take the principles of the Triple Bottom Line and begin to personalize them. That being said, one of my favorite quotes is from Gandhi, 'Be the change you wish to see in the world,' and that certainly applies here." Stenzel's inspiration, both contemporary and historic, come from a variety of sources. They include: Indian leader Gandhi; anthropologist Margaret Meade; Interface Corporation CEO Ray Anderson; Grameen Bank founder Mohammed Yunus; and Yamileth Perez, a Nicaraguan woman who is now a manager for the Fair Trade organization Esperanza en Acción and a community leader in Managua.
Paulette Stenzel has been awarded several MSU-CIBER research grants for her ongoing field work and research. Faculty and doctoral students are invited to apply for MSU-CIBER grants to support research that is of importance to the international competitiveness of U.S. firms.
Written by: Madison Hall, Writer, MSU-CIBER
Photograph: Paulette Stenzel, Professor of International Business Law, MSU
Photographic Credit: Madison Hall, MSU-CIBER