International Business Center Featured in The State News
Publish Date: Wednesday, March 30, 2011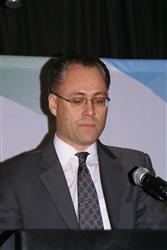 On March 30, 2011, the State News featured the announcement of a new partnership between Michigan State University's International Business Center and the U.S. Commercial Service, the export promotion arm of the U.S. Commerce Department.
Under this arrangement, the MSU International Business Center works with Michigan companies on a pro bono basis, conducting analysis and market research on their behalf. Working together, the U.S. Commercial Service will provide pro bono international network and support services.
In September, 2010, President Barack Obama signed the National Export Initiative into law, with the desired outcome of doubling U.S. exports within five years. With the U.S. economy struggling, expanding into exports is an important new growth venue.
Currently, Michigan ranks fifth nationally for the number of export dependent jobs.
"Exporting is important for Michigan because by and large we're a manufacturing state, which means we have a lot of good products that we haven't taken advantage of internationally," said Tomas Hult, director of the International Business Center.
You can read the full story at the State News link below:
http://www.statenews.com/index.php/article/2011/03/msu_partnership_promotes_foreign_business
The link to the original MSU announcement: http://news.msu.edu/story/9129/
Photograph: G. Tomas M. Hult, Ph.D., Director MSU-CIBER
Photographic Credit: Madison Hall, MSU-CIBER