Global Opportunities Awaiting Michigan Manufacturers Featured at March Global Business Club
Publish Date: Wednesday, March 30, 2011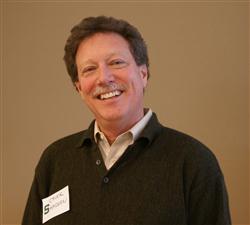 Chuck Hadden, President and CEO of the Michigan Manufacturers Association, discussed challenges and global opportunities for Michigan manufacturers as Global Business Club keynote speaker on March 24, 2011, at the Henry Center in East Lansing, Michigan.
The half day program focused on export financing and getting paid. The initial presentation by John O'Gara, analyst with U.S. Commercial Services in the U.S. Department of Commerce, and Martha Gabrielse, VP Global Trade, JPMorgan Chase Bank, focused on export financing. Later presentations detailed managing counterparty risk with Gabrielse and managing foreign currency risk with Howard Cornin and Wes Seeger, both of Bank of America Merrill Lynch.
A panel discussion, "Practical Approaches to Export Financing and Foreign Receivables Risk Management," moderated by Joshua Tudor, VP, JPMorgan Chase Bank, followed. Panelists included: Ralph McGee, Chairman and CEO, Progressive Dynamics, Inc.; Richard Shatkosky, President, Ecosynthetix, Inc.; and Norm Winterstein, CPA, COO and CFO, Powell Fabrication and Manufacturing, Inc.
Keynote speaker Chuck Hadden, President and CEO, Michigan Manufacturers Association (MMA), discussed global opportunities and challenges faced by Michigan manufacturers. Hadden declared, "This is my dream job, and I'm going to keep doing this as long as I can," observing that in business, "If you don't provide good service, you don't get a tip and you don't get paid," a main driver of his own work and business ethic.
Hadden began his work with the MMA on the cusp of the global economic meltdown in 2008 and recalled watching companies go into bankruptcy as MMA members hunkered down. By holding on to core staff and taking time to plan and improve balance sheets, MMA members stayed strong for future opportunities.
Additionally, companies were looking to diversify in the event of a major customer loss. To address these needs, the MMA began a series of seminars on the building blocks of diversification, assisting in the reenvisioning and repositioning of existing products into new, untapped industries. By repositioning existing products while creating new products, many have been able to weather the economic storm. Hadden pointed to one yacht manufacturer now making wind turbine blades from the same plastics and successfully selling them around the world.
The biggest change, Hadden noted, was that "No longer will we be depending on the big guys down the street. Now we're hungrier and we're going after the business." He described today's business environment as "economic gardening," asking, "What do we need at the MMA to help your business grow?" To that end, the MMA is bringing in experts and pointing to expertise. "This is a great opportunity not just for manufacturers, but for Michigan, because manufacturing is in our DNA. My companies are as lean as they've ever been, and are on the cusp of hiring and expansion. And I predict we're going to have a skills shortage in about three to four years," Hadden encouragingly forecast.
Written By: Madison Hall, Writer, MSU-CIBER
Photograph: Chuck Hadden, President and CEO, Michigan Manufacturers Association
Photographic Credit: Madison Hall, MSU-CIBER