The Art of the Process: Demmer Corporation CEO Creates Value, Seeks Excellence
Publish Date: Monday, March 21, 2011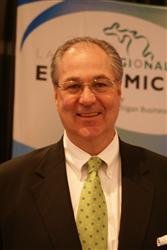 Bill Demmer, President and CEO of Demmer Corporation, addressed the journey his family's manufacturing business has taken from founding to present day diversification and their ongoing quest for value and excellence. As keynote speaker, Demmer addressed members of the business community at the Lansing Economic Club's March 17th meeting at the Kellogg Center in East Lansing, Michigan.
Founded in 1951, Demmer Corporation employs over 1,000 people, with an additional 560 employees in out of state facilities. Demmer's story highlighted the continual challenges which many U.S. manufacturers have faced during the economically challenging landscape of the past 60 years, times "of feast or famine," Demmer noted. Referring to Swedish ancestors from North of the Arctic Circle, Demmer credited them with strength and determination, an influence he feels today.
Demmer Corporation's history is one of a continual quest for insight, improvement and value, all while staying nimble in an increasingly global marketplace. Demmer pointed out that through hard work and nerve he built the company up to 350 employees by 1970, only to shrink it down to 70 during the General Motors strike of 1969-70. "Those were hard times, and they were my formative years," Demmer observed.
In the 1970's, foreign competition increased and Demmer turned to the defense industry, working on prototype parts. At that time, Demmer's business was half military and half automotive. Then in 1989 Demmer began to examine the entire business as a process from a total quality management and improvement standpoint. "I was an engineer learning how to manage the hard way, and I had to change my role in order to lead in this new direction," Demmer said, adding, "Profound knowledge is needed to keep improving."
Since 2000, Demmer has established several new metrics to measure company progress, focusing on newly stabilized and lean processes, while monitoring and measuring flow and output. This strategy has allowed the company to break through while simultaneously becoming a very flat organization, something which builds resilience, Demmer said. Currently focused on the defense, aerospace and automotive industries, Demmer is looking to the future and staying nimble by adopting a strategy utilizing flexible equipment with multiple applications for energy, mining and other new markets. "We are on a mission," Demmer declared.
A 1970 graduate of Michigan State University with a BS in Mechanical Engineering, Demmer advised business students to "Understand the critical role that teamwork plays, and profoundly look at your processes, so that you understand how to bring value to your customers, while working hard to understand your customer's needs," encouragingly noting, "This is the century for the entrepreneur."
Written By: Madison Hall, Writer, MSU-CIBER
Photograph: Bill Demmer, President and CEO of Demmer Corporation
Photographic Credit: Madison Hall, MSU-CIBER