MSU-CIBER Director Tomas Hult to Speak in Brussels at University/Business Forum
Publish Date: Wednesday, March 16, 2011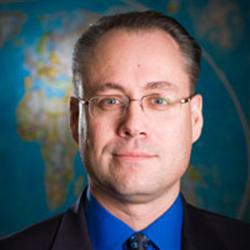 MSU-CIBER Director Tomas Hult, Ph.D., will speak as an invited panelist at the European University / Business Forum in Brussels, Belgium, March 22-23, 2011. The forum, "University / Business Cooperation: A strategic partnership to deliver Europe 2020," seeks to establish a strategy for smart, sustainable and inclusive growth for the next 10 years in Europe by stressing the critical partnership between higher education and business.
Hult has been asked to speak on behalf of the U.S. Department of Education and will be representing the Centers for International Business Education and Research (CIBER) and Business and International Education Program (BIE) grant programs. Other distinguished speakers include members of the European Parliament, European Commission, ministers from various countries, CEOs, and university presidents.
Hult's workshop on "Business Cooperation / Cooperation in a global perspective" will examine the need for closer cooperation between higher education and the work world, an issue which transcends European borders, remaining high on the political agendas of many countries. Levels of cooperation between institutions of higher education and the world of work vary across countries and even within countries. The workshop will present examples of and approaches toward stimulating university-business cooperation from several parts of the world.
Panel members include moderator Emeritus Professor John Goddard, Newcastle University; Professor Tomas Hult, Director, MSU-CIBER, United States; Professor Chandra Shekhar Dubey, University of Delhi, India; Mr. Haim Rousso, Executive VP Engineering and Technology Excellence, Elbit Systems Electro-optics-Elop, Israel; Professor Saran Kaur Gill, Deputy Vice Chancellor (Industry and Community Partnership), University Kebansaan, Malaysia; Professor Matthew Yuen, Hong Kong University of Science and Technology, China.
The program may be downloaded at: http://forum.teamwork.fr/doc/Draft_Programme.pdf
Photograph: G. Tomas M. Hult, Ph.D., Director MSU-CIBER
Photographic Credit: G.L. Kohuth