Self-Made Strategic Staffing Founder Focuses on Teamwork
Publish Date: Thursday, March 10, 2011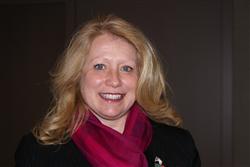 Cindy Pasky, founder, president and CEO of Detroit-based Strategic Staffing Solutions (S3), addressed the current political and economic climate in Michigan while sharing her personal experience of building a consistently profitable, 20-year, $205 million company from the ground up. As keynote speaker, Pasky spoke to a full house at the Lansing Economic Club's March 3rd meeting at the Kellogg Center in East Lansing, Michigan.
International in scope and employing 1,800 employees, S3 operates 20 branch locations in the U.S. and Europe. A worldwide shortlist of locations includes Detroit (HQ), Atlanta, Boston, Los Angeles, San Francisco, Chicago, Manhattan, Philadelphia, Dallas, London, Lithuania, Denmark, Estonia, Latvia, Poland, Slovakia, Sweden, Scotland, and Ireland.
Citing political lessons she learned from her Lithuanian grandparents, Pasky described one aspect of her political philosophy as "pro voting – it's a privilege." She went on to credit Governor Snyder with smarts and intelligence, both necessary assets for critical thinking in Michigan's challenging economic landscape.
Time and again Pasky referred to hard-won lessons about teamwork she learned building her own successful business, observing, "Surrounding yourself with a good team is key." Pasky noted that every day she gets up and takes on new challenges, things she's never done before, pointing out that it can be done, because the proof is in her team. Pasky applauded Governor Snyder's effective team building efforts, which she feels will stand his administration and Michigan in good stead.
For personal inspiration, Pasky looks to the biographies of great leaders. She humorously noted that reading these types of books on airplanes also has the benefit of discouraging conversation with fellow passengers, a point of levity not lost on her well-travelled audience.
As a truly self-made woman, Pasky shared her personal history of having no college degree and little guidance from home, working from the young age of 15 to support her parents. "You do what you have to do and you learn from it," she stated. And S3 started simply, with an office, a phone and a desk.
Pasky described leaving her job, where she had never been asked to sign a non-compete agreement, as the current atmosphere at the time was that women wouldn't go far, just prior to starting S3. Working without pay for the first two years, Pasky grew S3 into the staffing powerhouse it is today, an enviable growth trajectory that has never experienced a negative year even in the midst of a world-wide economic decline. She added, "I never let the economy define us – we define the economy."
When asked what advice she would have for newly minted MBAs entering the business realm, Pasky immediately responded, "Try and understand what works in a team before changing it. Learn what teamwork is in addition to leadership."
For Pasky, Detroit is always headquarters and home port. "We believe in relationships – built on mutual trust and respect," Pasky observed. She emphasized that "a relationship built on trust is a relationship that will last. You have to work hard and have talent."
Pasky's accolades are many; she was recently named CEO of the Year by Automation Alley and one of Detroit's Most Influential Women by Crain's Detroit Business. S3 was recently named one of the top 25 WBEs in the country by Women's Enterprise USA Magazine and has been recognized as one of the "101 Best and Brightest Companies to Work For" by the Michigan Business and Professional Association (MBPA).
Written By: Madison Hall, Writer, MSU-CIBER
Photograph: Cindy Pasky, CEO, Strategic Staffing Solutions (S3)
Photographic Credit: Madison Hall, MSU-CIBER