MSU-CIBER Sponsored Students Return from the Asia-Pacific Homeland Security Summit
Publish Date: Monday, December 13, 2010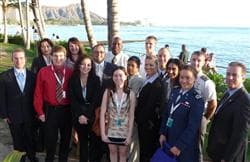 Three Michigan State University students are back to class after two days of participation in a summit addressing security threats in the Asia-Pacific region.
Top government officials, senior business executives, and security, technology and anti-terrorism experts assembled at the Sheraton Waikiki Hotel for the 2010 8th Annual Asia-Pacific Homeland Security Summit, which took place on November 22 and 23.
Also in attendance were 16 undergraduate and graduate student fellows from various universities and military academies in the U.S.

"Without a doubt, I am glad I attended the summit and am so grateful that MSU-CIBER made my trip possible," said Geoffrey Levin, a student fellow from Michigan State University.
The student fellows relished the acknowledgment and recognition they received from the summit organizers throughout the conference.
"We were publicly honored during the event introduction and in the schedule brochure," he said. "We were also given a chance to mingle with many of the most prominent speakers before and during the conference."
The summit made a great impact on the students' decisions to pursue graduate studies and also on their future career decisions.
"I learned of excellent programs on homeland security and national defense from Florida to California," said Elyse Gatt, one of the student fellows.
Levin, who has been interested in security studies for a while, said that he will integrate the topic of homeland security into his future graduate school curriculum. He plans to apply to Georgetown University's Center for Peace and Security Studies for his graduate studies.
The theme for this year's conference was "Hosting Special Security Events: Government and Industry Perspectives." The summit is the region's forum for developing solutions to public and private sector security threats in the Asia-Pacific area and was the prelude to the 2011 Asia-Pacific Economic Cooperation (APEC) forum, a meeting that assembles Asia-Pacific leaders to discuss regional trade and investment issues among their economies.
The student fellows participated in the plenary forums and roundtable discussions, giving them the chance to learn what no textbook or instruction manual could teach.
"The summit exceeded my expectations," said Levin. "I had no idea that us fellows could receive so much access to important professionals at such a major summit."
The night before the conference, the student fellows attended a reception where they mingled informally with highly-placed homeland security officials, CEOs of Fortune 500 security corporations, and the president of INTERPOL, among other senior national security officials.
"Talking to them really added to my perspective by showing me the size and dynamics of the homeland security industry, something few undergraduates have a chance to take a look at," said Levin.
During the conference, the students were also paired with mentors, giving them the chance to ask questions and learn more about homeland security job opportunities.
After meeting and having in-depth conversations with Glenn Roessler, senior representative of the Naval Criminal Investigative Service (NCIS), Alexandra Burkow, another student fellow from MSU, decided that she is going to pursue a career in security issues.
"I am very fortunate that my professor nominated me," Burkow said. "I am also very grateful for MSU-CIBER and all the support and help that made this trip possible."
Emma Ogutu
Graduate Assistant
MSU-CIBER