globalEDGE Featured on Wall Street Journal
Publish Date: Wednesday, November 17, 2010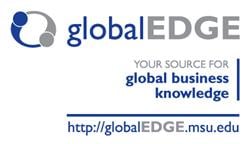 In their November 15 edition, the Wall Street Journal featured Michigan State University's International Business Center's globalEDGE as one of the online sources providing a host of information for businesses seeking to establish an international presence.

The article, which was featured in the "Small Business Report" section of the journal, cited the popular globalEDGE's training modules on international business and trade, the country insights and the blog as some of the outstanding features of the site.

globalEDGE, which was created in 1994 as a site for categorizing international business resources, has grown over the years to become one of the leading international business resources for business professionals, students and researchers.
The site, which is partially funded by the U.S. Department of Education's Title VI program, has added to its portfolio a series of online course modules, a blog section featuring new trends in the international business arena, interactive educational tools for use in classroom and executive training, country insights, U.S. states insights and in-depth analysis of selected industries, among other features.
In 2006, globalEDGE received a similar recognition by the Association of International Educators in an annual report where MSU was chronicled as one of the leading universities in internationalizing. The report described globalEDGE as an encyclopedic international business portal which offers resources on international business.

Other online resources that were mentioned by the WSJ were the Overseas Private Investment Corp, a government agency which helps U.S. companies to expand into emerging markets by offering loans and insurance policies, and Country Watch, a Houston-based company which provides comprehensive country profile information and data from demographic to political and environmental material.

The "Small Business Report" section of the WSJ is one of the main sections of the journal, featuring information such as financing, small business expansion strategies, small business technology, franchising and how-to guides for small business owners.
To read the WSJ article, log on to: http://online.wsj.com/article/SB10001424052702303467004575574390346707652.html
For more information on globalEDGE, log on to: http://globaledge.msu.edu/about_globaledge.asp
By Emma Ogutu
Graduate Assistant
MSU-CIBER