Global Business Club Learns About Doing Business in the Middle East
Publish Date: Friday, September 24, 2010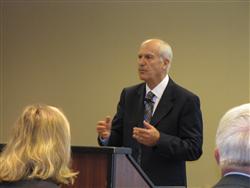 When Joe Badra, president and CEO of International Consulting and Contracting Services, Inc., decided to expand his trade and export business to Iraq, the U.S.-Iraq war was just breaking out and the demand for American products in the Middle East was starting to wane.
Still, he saw a business opportunity in the then war-torn country and went for it, aided with nothing else but a bit of capital and hope.
Seven years later, he has signed 25 contracts worth $28.7 million with Iraqi real estate developers to supply largely building material. His largest project, which just ended last year, earned him close to $9.9 million.
Badra's empire spreads across the Middle East. His leading market is Saudi Arabia, where he has, in total, signed about 136 contracts worth $155 million.
But how does he do it?
"Doing business in the Middle East requires a lot of patience and learning of the business and social expectations," Badra said at his keynote presentation during the Global Business Club of Mid-Michigan's meeting held on September 16, 2010, at the Henry Center, East Lansing.
He underscored the importance of trust in business relationships in the Middle East.
"Trust is very important in the Middle East," he said. "When they trust you, they will always do business with you."
Still referring to trust, he said that most Arab traders would enter into business agreements without a contract when they trusted a business partner.
"The important thing is to stick to the initial agreement," he said.
He also stressed the effective role that friendship associations played in expanding and deepening business relations in the Middle East.
"We often send greeting cards to our partners in the Middle East and we also acknowledge their religious holidays, which they always appreciate," he said.
Occasionally, the businessman invites his Middle Eastern business associates to the U.S. and to meet the manufacturers of the products he exports. Part of the courtesy, he said, is to pay their accommodation and travel while in the U.S., unless they want to pay their way.
Badra shared humorous anecdotes with the GB Club members, international business students and other participants.
"You cannot stop eating till your host stops," said Badra. "It is considered rude to even cross your legs when you are talking to a Saudi."
Venturing into the Middle East market opened a new realm of learning experiences for Badra. Although he spoke Arabic, he had to learn to differentiate the social and business expectations of each of the countries he traded in. He said that even though there were commonalities in the cultures of the Middle East, each country had unique differences which were to be appreciated and respected by international business people.
About the actual business negotiations, Badra cautioned against discussing business during business lunches.
"Talk about everything else; politics, family but not business during business dates," he said. "Real business takes place at home, so if an Arab trader invites you to his home for dinner after an official business dinner, that is the invitation to discuss business."
Courtesy is also crucial in preserving business associates in the Middle East.
"Even when there is no business, you have to go see your people, you have to let them see your face and your products regularly," he said. "Just go shake hands and kiss; it is very important to them."
The GB Business Club is organized by Michigan State University's Center for International Business Education and Research, (MSU-CIBER) and co-sponsored by Foster, Swift, Collins and Smith, P.C., the Greater Lansing Regional Chamber of Commerce, Lansing Community College, MSU's Center for Advanced Study of International Development (CASID), Women in International Development (WID) and the MSU College of Law. The monthly GB Business Club luncheons provide outstanding speakers and relaxed networking opportunities for anyone interested in international business.
The next GB Business Club meeting will be held on Wednesday, October 13, 2010.
Emma Ogutu
Graduate Assistant
MSU-CIBER