Management Guru Presents Seminar at the Broad School
Publish Date: Friday, September 24, 2010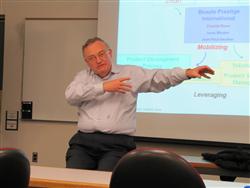 Some enjoyed him as a distinguished guest speaker, but for those who have studied his publications; it was an extremely rare and valuable opportunity to attend a research seminar presented by Professor Yves Doz.
Professor Doz, the Timken Chaired Professor of Global Technology and Innovation at INSEAD, delivered an outstanding presentation of his book "Managing Global Innovation: New Research on the Metanational Firm," to 42 faculty and doctoral students at the Eli Broad College of Business on Monday, September 13.
His presentation was the inaugural in a series of interdisciplinary research seminars to be presented this fall semester on international business topics.
"The purpose of this series is to provide a state-of-the-art dialogue with prominent international business scholars doing cutting-edge research in positions which set the agenda for international business research," said Tomas Hult, director of the International Business Center (MSU-CIBER). "The idea is that these speakers will be unique resources, providing unique value and cut across the boundaries of the Broad School's departments and units."
Professor Doz left behind a singular message to the audience: Think globally, act globally.
"Business organizations must employ the richness of technology, manpower and knowledge scattered around the world in order to compete strategically," he said.
He cautioned businesses against fishing information from the same pool as their competitors as this leads to a situation where none develops any significant strategic advantage over the other.
"Businesses have to learn to compete on the sensing plane," said the professor. "They need to build new sources of competitive advantage which can help them identify new technology or emerging needs of consumers which have been overlooked by competitors."
He also said that preempting the future needs of consumers and technology was the first step toward global prospecting for resources needed to satisfy those needs.
Professor Doz has consulted for various multinational corporations and taught in their internal development programs, including corporations in Singapore, Finland and Israel.
Professor Doz has also authored and co-authored several books notably, "Fast Strategy," "The Multinational Mission: Balancing Local Demands and Global Vision," and "From Global to Metanational: How Companies Win in the Knowledge Economy."
He is currently researching on strategic commitments as outcomes of organization processes. His previous research has centered on strategic partnerships, global competition in the knowledge economy and the competitive revitalization of international companies.
The seminar series, which is sponsored by the CIBER and supported by Michigan State University's Broad School, will cut across all the business departments at the Broad School.
"International business is by nature interdisciplinary so all the academic departments will have the opportunity to invite highly-reputed, internationally-oriented speakers from their main functional homes, with the idea that they span the interests of more than one department," said Hult.
Emma Ogutu
Graduate Assistant
MSU-CIBER