2008 MSU-CIBER Annual Advisory Board Meeting
MSU-CIBER Advisory Board Members List for download (pdf 37.2 KB)
Agenda for Download (pdf 17 KB)
The MSU-CIBER's advisory board gathered for its annual meeting on Friday, September 19, 2008. The meeting began with the State of MSU-CIBER address by Director Tomas Hult, which covered such areas as the upcoming 2009 grant competition, the college-wide emphasis on global initiatives, discussion of international internship opportunities and the upcoming directory of international internship opportunities and an update on globalEDGE. Interim Dean Elvin Lashbrooke addressed the advisory board at lunch, discussing the Broad School's strategic plan for internationalization, including the appointment of CIBER Director Tomas Hult as Associate Dean of Global Initiatives, the development of a business cognate for the Dubai campus. He concluded by offering an update on the search for a "permanent" dean.
Following lunch, Chris Holman, presented a session on the Michigan Economic Development Corporation (MEDC) and its programs, as well as those of the state, to assist business in Michigan. Bill Sepic then represented the Lansing Chamber of Commerce and their new economic development plans. A portion of these plans consists of quarterly programs, which are put on in conjunction with CIBER and have drawn businesspeople from the Indiana border north to Mount Pleasant. "WE could not replace the relationship we have with MSU-CIBER." Marc Santucci briefed the board on the databases his company has developed, and the potential synergies which exist with MSU-CIBER.
The meeting concluded with a lively discussion of strategic planning to achieve the greatest impact and reach to our constituency groups (i.e., business executives, public policy makers, scholars, and students). As in past years, the esteemed members of the MSU-CIBER advisory board provided sound advice, positive suggestions, and encouragement throughout the day. The next meeting of the advisory board will be Friday, September 18, 2009.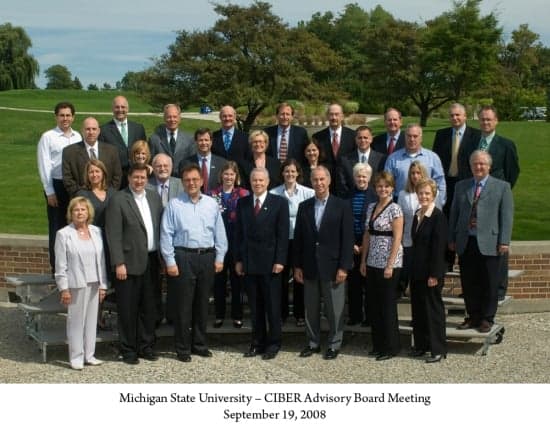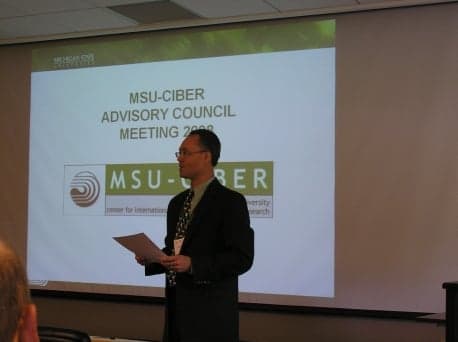 Tomas Hult, MSU-CIBER Director, addresses the Board at the 2008 annual meeting.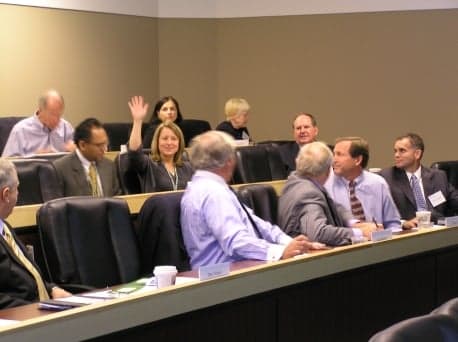 The MSU-CIBER Advisory Board engages in conversation during the meeting.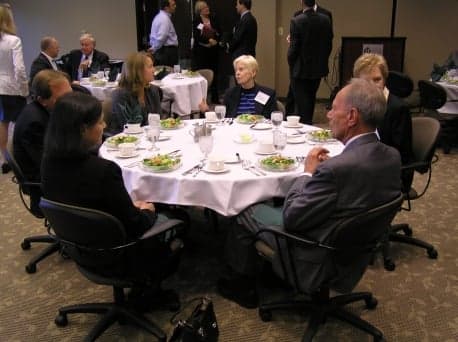 MSU-CIBER Advisory Board members enjoy lunch at the Henry Center.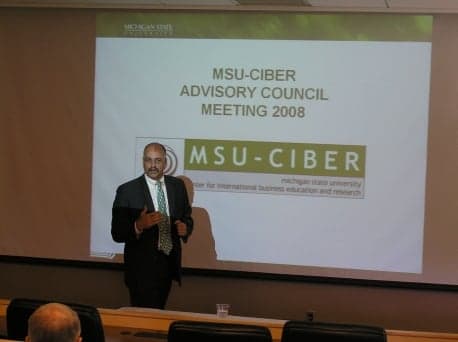 Bill Sepic, President of the Lansing Regional Chamber of Commerce, speaks to the Advisory Council.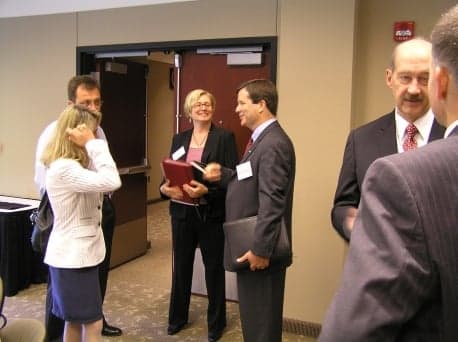 MSU-CIBER Advisory Board members enjoy a networking break during the annual meeting.