2003 MSU-CIBER Annual Advisory Board Meeting
MSU-CIBER Advisory Board Members List for download (pdf 135 KB)
Agenda for Download (pdf 80 KB)
The annual meeting of the MSU-CIBER Advisory Board took place on Friday, March 21, 2003 at the James B. Henry Center for Executive Development. Some 30 business and government representatives who formulate the Board attended the meeting. The meeting started with lunch at the University Club, where The Eli Broad College of Business Senior Associate Dean, Alison Barber gave remarks. Dean Barber talked about the critical role that the Advisory Board plays into the success of the Center. She pointed to the diversity among CIBERs and briefed the Board about her positive experiences at the CIBER Directors' Meeting that took place in June 2002. Dean Barber also talked about the Strategic Plan and The MSU Research Center Review Process that MSU-CIBER has recently completed. Dean Barber closed her remarks by highlighting the challenges that the higher education institutions face and the increasingly important role of CIBERs in reaching out to business communities and helping future employees become effective global business leaders.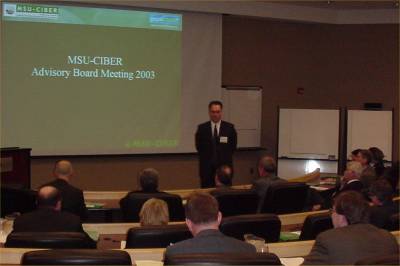 Dr. Tomas Hult, Director, addressing the Advisory Board
The meeting continued with a brief update from Tomas Hult summarizing MSU-CIBER's progress in the past year. Dr. Hult then presented three areas for the Board to work on in the afternoon breakout sessions with the MSU-CIBER team. The Board was then accompanied into breakout rooms to discuss and produce ideas and direction for the following three topics: a) Fund-Raising b) Executive Education Programs, and c) MSU-CIBER at a Mature Stage. The recommendations and ideas generated from these breakout sessions were summarized in an-hour long session, where discussions took place among Board members and the MSU-CIBER staff. Breakout Session Notes for Download (pdf 131 KB).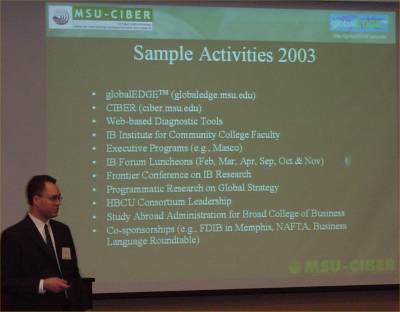 Tomas Hult talking about a sample of 2002-03 activities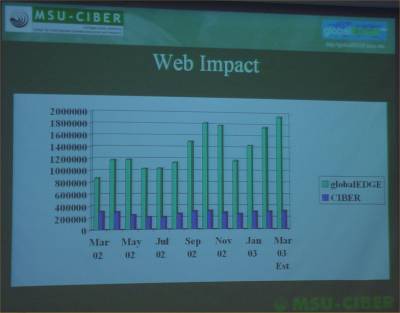 Briefing the Board on MSU-CIBER's web impact