2001 MSU-CIBER Annual Advisory Board Meeting
The 2001 annual meeting of the CIBER Advisory Board was held on 23 March 2001 at the Kellogg Center. Business and government representatives present were: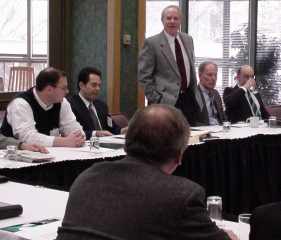 Nat Adamson, retired from Ford Motor Company
Toshikata Amino, retired from Honda of America
Sandy Beall, IBM Corporation
Geoffrey B. Bloom, retired from Wolverine World Wide, Inc.
Janet Clark, Michigan Economic Development Corporation
John W. Clark, CMS Energy Corporation
Shahriar Ghoddousi, The John Henry Corporation
Norman Gilbert, retired from The Budd Company
John Hornick, Pharmacia Corporation
Vicky Jones, GM University
Peter M. Lyon, Dow Chemical Company
Lynn Myers, General Motors Corporation
William Parfet, MPI Research
Senator Don Riegle
John Riesenberger, Pharmacia Corporation
Marc Santucci, ELM Corporation
Trygve Vigomstad, Polydisplay, Inc.
Peter Walters, Guardian Industries Corp.
Michigan State University representatives were:
G. Geoffrey Booth, A.J. Pasant Chair and Chairperson of Finance
Donald Bowersox, Interim Dean, The Eli Broad College of Business & Graduate School of Management
Roger Calantone, Professor of Marketing and Director of Research Initiatives, CIBER
Robert Church, Acting Vice Provost for Student Outreach
Susan Haka, Professor and Chairperson of Accounting
John Hudzik, Dean, International Studies and Programs
Robert Huggett, Vice President, Research and Graduate Studies
Tomas Hult, Director, MSU-CIBER
Elvin Lashbrooke, Associate Dean for Administration and Research
Bruce Magid, Director, MSU Global Initiatives
Robert Nason, Professor and Chairperson, Marketing and Supply Chain Management
Patricia Paulsell, Professor of German, Co-Director, MSU CLEAR Director, Business Languages, MSU CIBER
Scott Whiteford, Director, Center for Latin American and Caribbean Studies
S. Tamer Cavusgil, University Distinguished Faculty, MSU-CIBER Executive Director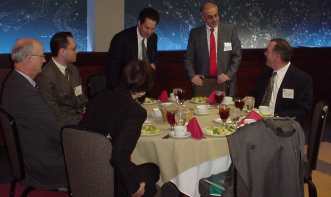 MSU educators Frank Rothaermel and Brent Adamson presented highlights of their international research to the group and were well received. Tomas Hult, Director of the International Business Center spoke about the commitment made by both the University and The Eli Broad College of Business to the study abroad experience. Many executives commented on the importance of international experience to the individuals they eventually hire. Bruce Magid presented the university-wide initiatives involving eLearning and other strategies for globalizing MSU. The alpha release of the global knowledge portal, globalEDGE was also presented, and well received.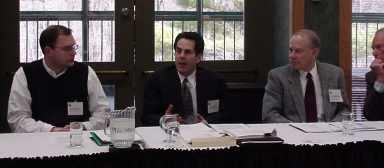 The next annual meeting will be on 15 March 2002.